This is the first in a series of articles and local surveys that Core Design is preparing to share with our clients and contacts relative to how the current pandemic and economic challenges are impacting the Puget Sound development community. We will focus on ideas and adaptations to help us adapt, survive and thrive.
By Sue Jensen, PLA, ASLA
Challenge: How can we quickly and affordably adapt our community shopping centers, mixed use and community activity areas to provide safe social spaces? How can we help our retail businesses survive?

During a recent ULI NW Webinar, Doug Thon, President of the IBI Group, noted that this pandemic has resulted in a rapid shift from a Sharing Economy to a Distancing Economy, and our need to distance means our shared spaces need to get bigger.
Adaptation and Solutions:
Accommodate our need to gather in small groups, in outdoor settings, where there is a lower risk of virus transmission than indoors.
Expand outdoor dining outside, re-space furnishings.
Enlarge outdoor areas through use of sidewalk, adjacent parking (parklets) or on-site parking lot areas.
Create aggregate (shared) outdoor dining for multiple restaurants and cafes.
Designate curbside pick-up spots and allow retail to create temporary outdoor merchandising displays.
Create Social Flex spaces, permanent or temporary, for smaller events and impromptu gatherings.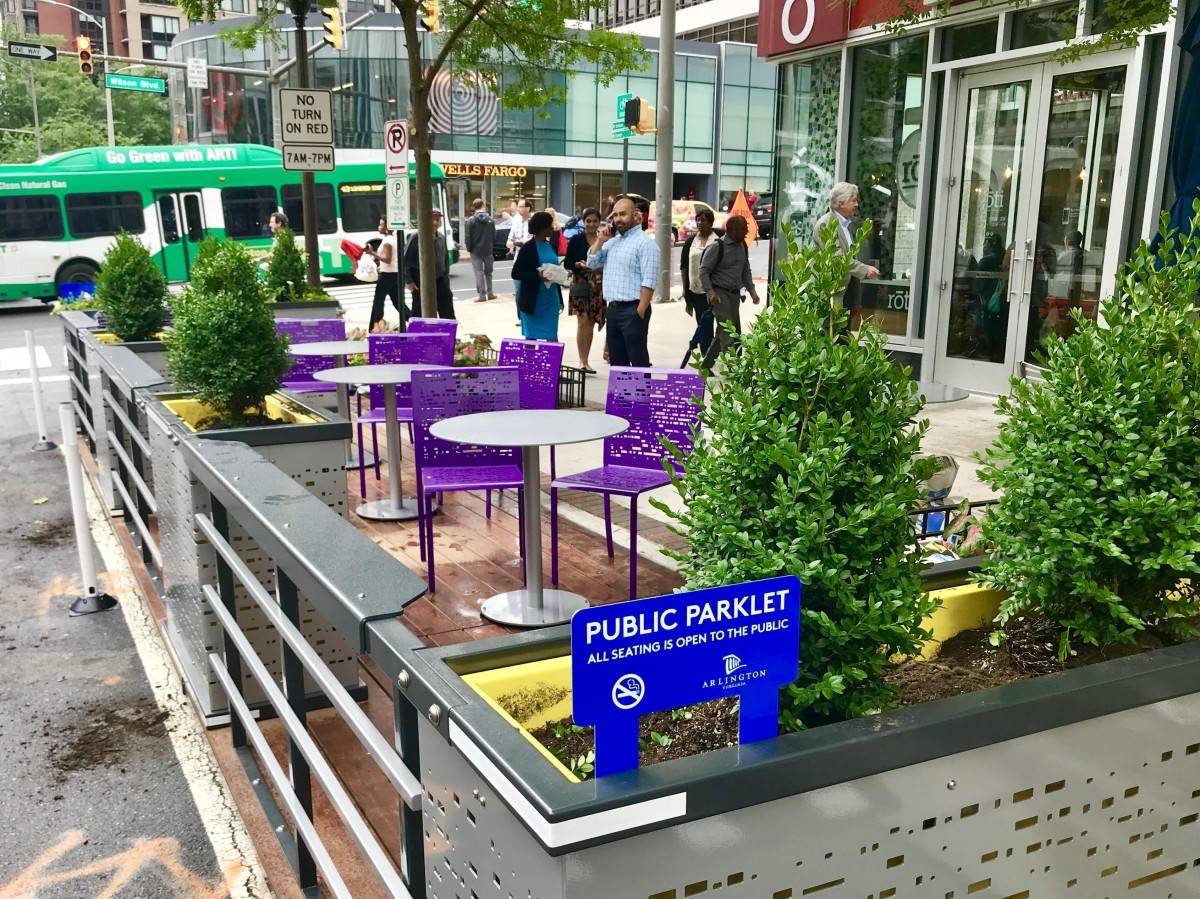 Options may include expanding into the sidewalks, using on-street parking spaces (parklets), using private off-street parking or even a temporary use of the entire right of way. As Steve Butler wrote in his MRSC blog on June 6th:
"One challenge is that many restaurants, especially small ones, trying to open under reduced occupancy may not have enough interior space to easily meet the six-foot social distancing standard even when operating at only a 50% capacity level. If a restaurant could shift some of its tables onto the public right-
of-way (ROW), it would be easier to follow social distancing guidelines and accommodate enough customers to make operations financially viable.
As a result, some local governments are considering allowing restaurants to extend their activities into the public ROW on a temporary basis."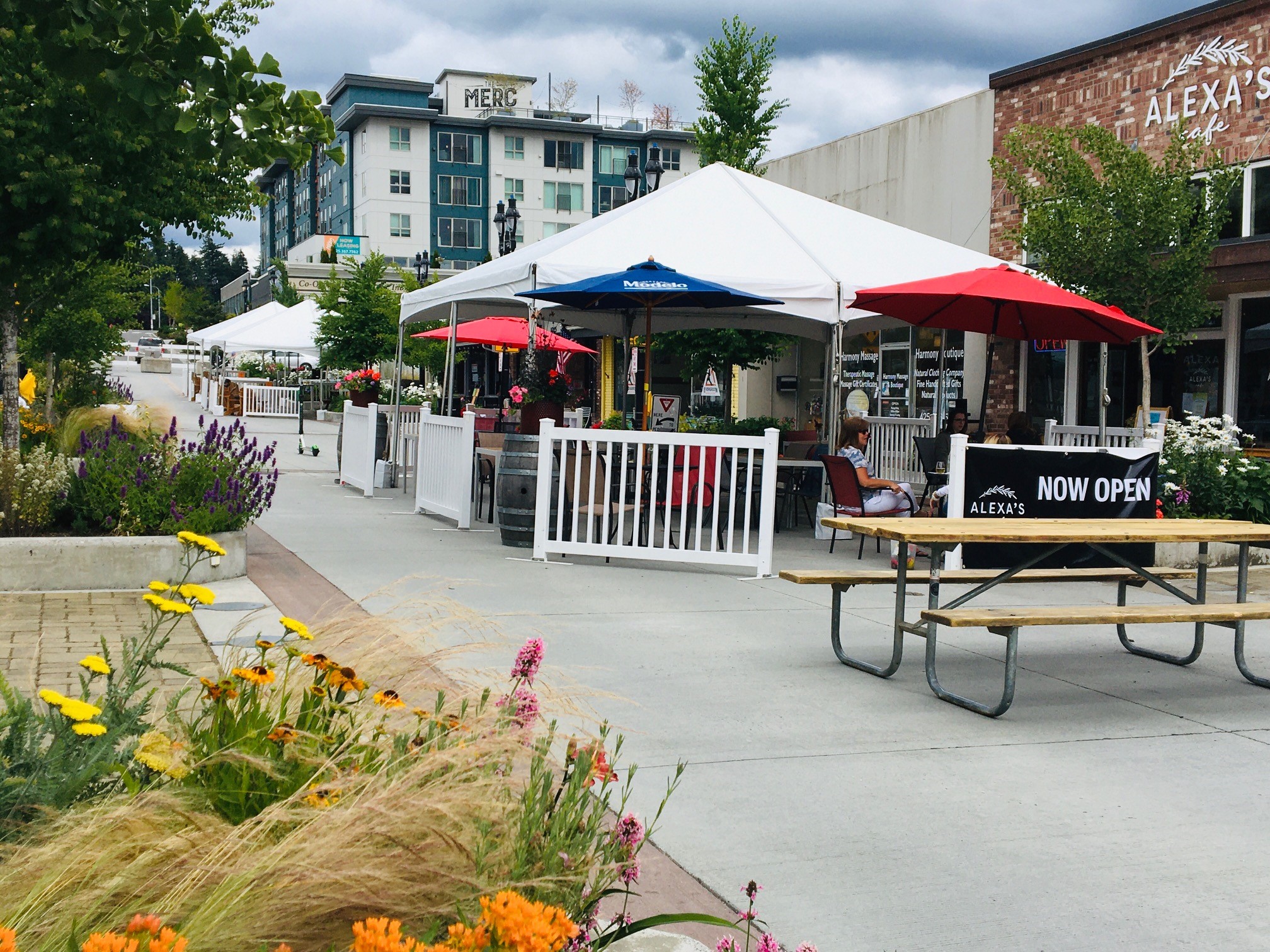 The City of Bothell did a great adaptation on their Main Street in downtown Bothell, by closing one block to traffic to allow restaurants to create outdoor dining space and expanded pedestrian space.
Design Considerations:
These new spaces should be ADA accessible, ideally at the same grade as the sidewalk or use ramps.
Temporary spaces - Define edges with colorful temporary solutions: fencing, art murals, planters, banners, temporary stages and arbors.
These could be great opportunities to hire and support engage local artists!
Add simple low-cost planters to define space and add interest.
Use moveable street furnishings that can adjust for social distancing, and future fixed installation.
Plan ahead now to adapt these spaces for use into the fall. In the Pacific NW, this means strategies to combat rain and cooler weather, such as eg: roof systems and side walls for weather protection, propane heaters and fire tables for warmth.
Similar strategy and solutions can be part of the program and incorporated into new mixed use, retail and housing communities.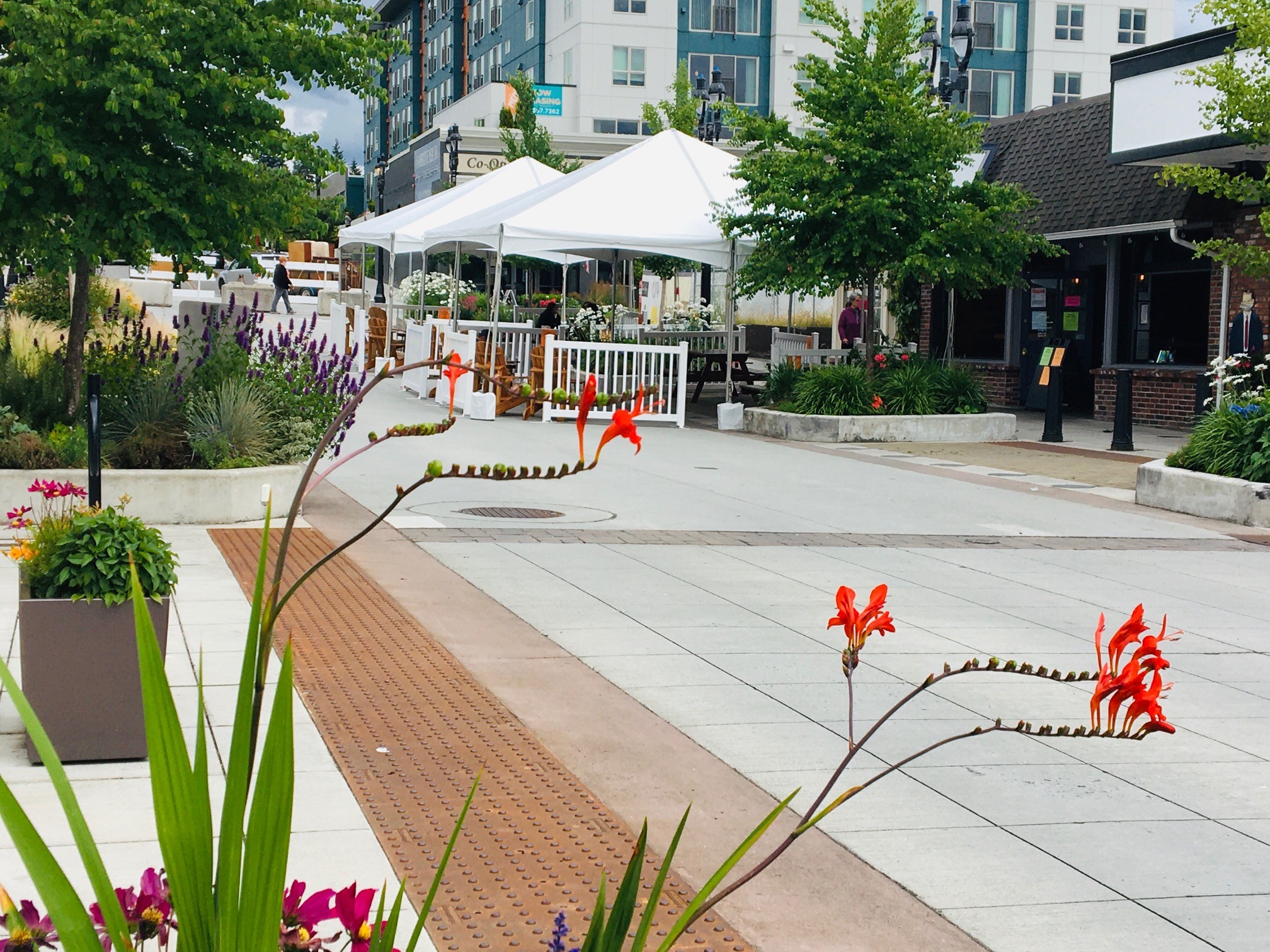 We'd love to hear from you! Please let us know if you are aware of other successful projects to adapt existing ROW or private space to create outdoor dining and other expanded pedestrian space. Sue Jensen: SEJ@coredesigninc.com